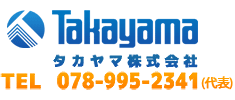 TAKAYAMA Co.,Ltd is the company that manufactures, process the industrial rubber.
TAKAYAMA Co.,Ltd. will be to meet the needs of our customers as the expert in rubber molding.

We have contributed to the society by Vulcanization bonding technology for bonding varieties of rubbers, also rubber with metal and resin.
Contact us
Nishi-ku Mitsugaoka 2-4-5 Kobe, Hyogo 651-2228 JAPAN
Phone : +81 78 995-2341 (Main Line)
FAX : +81 78 995-2351
Email : info@tkym-co.jp

Mail form
Vulcanization bonding technology the Takayama.
About Vulcanization bonding.
Vulcanization is a chemical reaction caused by heating raw rubber mixed with sulfur. If the technology is called vulcanization adhesive bonding between the dissimilar materials is performed at the same time as the vulcanization of rubber, the bonding interface with excellent durability by using a special bonding agent interfacial reaction is formed. Takayama Ltd. adhesion technology boasts a competitive bonding technology.